Our pole ladies were treated to an amazing workshop this weekend with the incredible Sam King.
Sam is well known for his extreme leg flexibility, and our ladies were super keen to learn about his techniques, watch him in action, and generally have a fun afternoon!
After teaching the basics and importance of stretching, Sam taught the class some beautiful flexibility based shapes and gave some top tips on how to make your body look more flexible than it actually is.
It's fair to say that everyone thoroughly enjoyed their time with Sam, and they're all eager to show off their new bendy skills in their next classes!
Well done everyone 🙂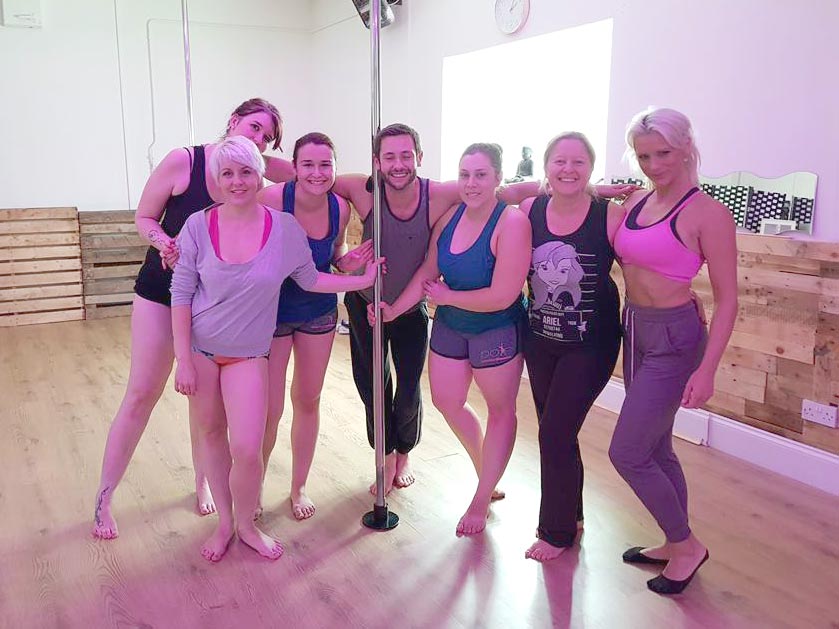 Workshop Reviews…
"Was really nervous about whether I'd be at the right level to manage it and very out of my comfort zone. However, I loved it! Sam was ace, really chilled and approachable, made it fun and helped us all. Learnt loads and it's helped my confidence and helped me find my personality with it. Thank you Jo Thomas and Sam King xx" – Amanda
"Loved having a workshop with Sam. Even if you can't do something in class he teaches in it steps of progression which means they are easy to remember so with practice in pole jams hopefully one day I'll get it. Looking forward to the next one." – Sarah
"So much fun and giggles! 🙂 Was worried before that it is rather a bit out of my comfort zone but so happy I did it. Showed me that with a bit of practice I can actually learn how to smoothly move from one thing to another 😀 Definitely learnt few new bits and really would love to do more workshops with Sam! 🙂 Thank you Jo and Sam for making it happen! X" – Magdalena
"Despite feeling very nervous and having no idea what to expect I came away feeling bruised (again?) but so pleased I pushed myself to go! I loved the workshop and felt comfortable with Sam and the other girls. It was great to try something different and to see how the moves we are learning in class can be put together to flow. A very enjoyable afternoon with great people :)" – Tanya