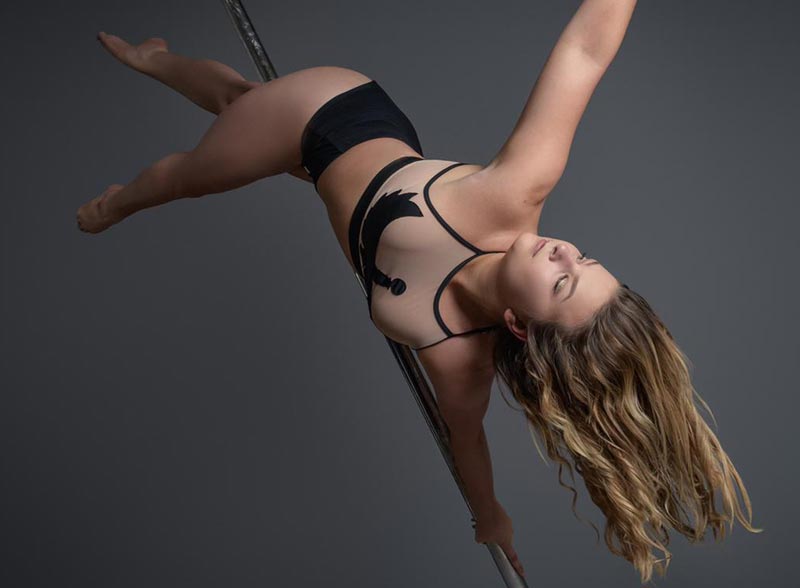 6 Week Beginner Course
All new students are invited to complete a six week beginner course to introduce the basics of pole fitness.
During the course you'll build the foundations of your pole skills, allowing you to continue on to regular classes with confidence.
You'll also meet some fab friends too!
Pole Beginners Course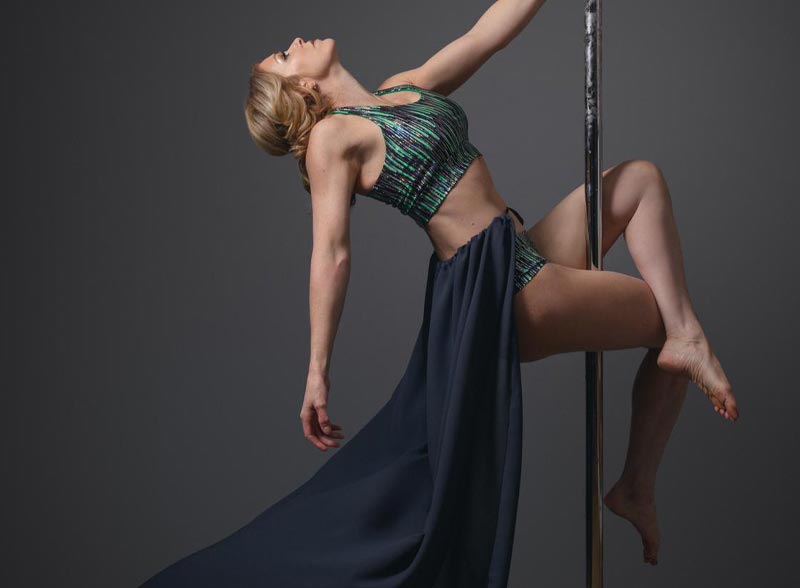 Pole Fitness Classes
Pole Fitness combines dance and gymnastic moves performed around a vertical pole in a flowing, graceful routine.
There are many different kinds of moves and sequences including; spins, poses, floor work, dance and transitional moves. Classes also explore pole-to-floor and floor-to-pole moves and inversions.
View Timetable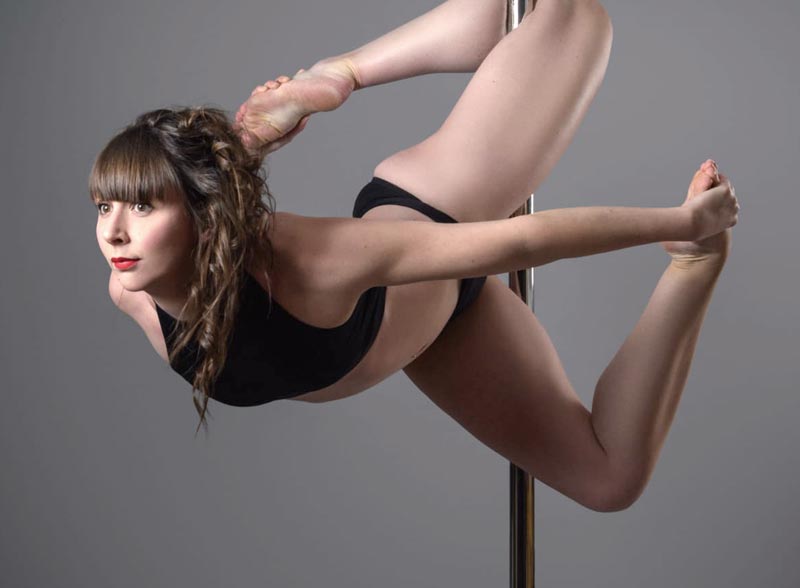 Photoshoots
Celebrate your progress and enjoy a fun afternoon at one of our regular pole shoot days.
Choose your favourite poses, grab your best outfit and come and enjoy yourself!
What's more, you'll have some fantastic professional photographs to impress family and friends.
About Our Photoshoots
Such a feel good class. I've been coming to pole fitness for the past 8 months, and have loved every minute of it. Always leave class with a smile.

Jo has an amazing amount to give, whether it's guidance, encouragement, praise or a general kick up the backside, she's there to give it.

Incredibly patient but tough when she needs to be, Jo has been a fantastic trainer so far and I look forward to tackling more pole moves!
It's probably the hardest class I've ever taken, but well worth the effort.

I've never really liked the gym etc, as I always found myself bored and self conscious, but here Jo really encourages you and makes you feel at ease, even when you don't feel as though you're up to standard.

It's tough, but great fun. I've just completed the beginners course and now continuing on my pole journey.
An amazing class, and like everyone else says; Jo is an amazing instructor.

She gets the best out of you even when you don't think you have it in you.

Jo encourages you to be a team and support each other, nobody cares about anybody's wobbly bits you just want to help your pole friends achieve some moves!
I have been going for 10 months. My fitness and core strength is the best it's ever been.

If you want abs then this is the class for you !!

Jo is a fantastic and in my case a very patient teacher , she pushes you on to achieve your own goals. Highly recommended
Jo is an amazing teacher, she makes it fun to do.

Definitely worth all the effort put in and at the end of the class it always leaves you feeling great I would recommend Jo to anyone who is looking in to doing pole fitness.
It's pole-licious! Highly recommend!! Pole is soooooooo much fun and such an amazing total body workout.

I've met some fantastic girlies in my beginners group and Jo is a brilliant instructor. The hour flies by, it's seriously lots of fun; it's addictive!

You NEED pole in your life!! Give it a whirl!
Amazing teacher gives you the confidence to try anything and very friendly doesn't make anyone feel any less!

Reccomened to anyone who wants to kick some butt!
Jo is an amazing teacher who not only teaches you the skills and helps you gain the strength needed for pole but she helps you to boost your own self confidence and be proud of your body.

I have come so far over the past 8 months and I owe it all to Jo!
The main thing I love about pole fitness is the fact that I have fun whilst getting fit,you exceed limits physical and mental.

Jo is awesome, you couldn't ask for a better instructor, she pushes you, keeps you focused (and sweaty) giving right encouragement and support to ensure you achieve your goals.

Pole fitness is the only exercise you will always love and keeps you challenged all at the same time!
Pole Position Fitness – Stroud, Gloucestershire
We are based in the Stroud area of Gloucestershire offering Pole Fitness classes for all abilities, whether a Beginner or Confident Inverter.
Pole Fitness is an extension of pole dancing that uses the pole to its maximum potential as a versatile piece of fitness equipment.  It works the whole body, improving muscle tone, flexibility, coordination, posture as well as upper body and core strength.
You'll be amazed at the variety of exercises you can do with a pole, which are similar to exercises you might do in the gym, but using your own body weight for resistance. From chin ups to crunches to working your arms and abs and climbing to body holds for your legs and bums - you can work it all on a pole.